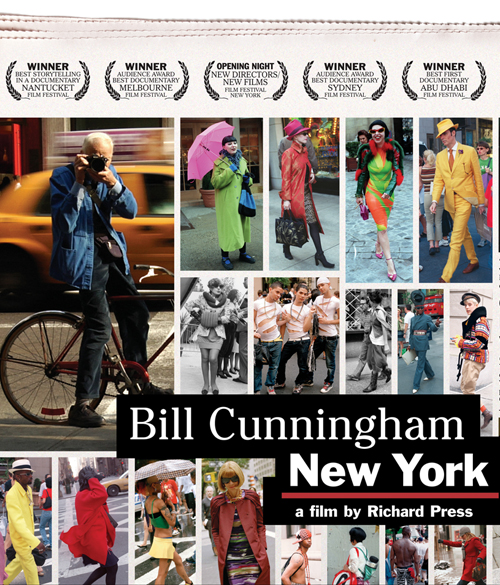 Director: Richard Press
Genre: Documentary, Social & Cultural Documentaries
Duration: 84 Minutes

Starring: Bill Cunningham, Anna Wintour, Michael Kors, Tom Wolfe, Carmen Dell'Orefice, Annette De la Renta, Mrs. Vincent Astor, John Kurdewan, Iris Apfel, Josef Astor
Bill Cunningham is a New York Times photographer. For years, even decades, he has been documenting and chronicling fashion trends and high society soirees for the New York Times' Style section in his two columns: 'On the Street' and 'Evening Hours'.
This documentary depicts him with his Schwinn bike and his film camera. He rides his bike to get around New York and takes pictures of people on the streets of Manhattan everyday.
Out of all the people in New York, Cunningham probably holds the whole visual history of the last 40 or maybe 50 years of New York fashion. He is also one of the most down-to-earth, honest, and straightforward person in the fashion industry. His relentless chase for images of people creating art with their clothes is very admirable. He builds a sort of concept in his head: "what are people wearing?", "how do people of New York incorporate trends from the runways to what they are wearing?". His work simply fascinates me.
Other than fascinating work, Cunningham also has a fascinating personality. One thing I noticed throughout the film is how his down-to-earth personality and simple lifestyle contradicts greatly with the nature of fashion industry, which some choose to look at as frivolous and wasteful. Cunningham doesn't look at it that way. What he is doing is art, and he doesn't give a rat's ass about how the fashion people live their life. This is what I found so intriguing about him when I watched the movie.
Now on to the film itself. I enjoy how it depicts him for what he is, and how the people around him feels about him (one scene I particularly love is Cunningham's office birthday party, a definite must-see). The film chronicles his work through the ages, his relationship with his friends, and his life living in the Carnegie Hall. But what I like most is when the interviewer was asking the questions, Cunningham, naturally, will answer with some unusual answers (being the character that he is). I really enjoy how the interviewer never fails to be surprised with the answers, constantly saying "really?" after every so answers.
In short, I didn't really think the filmmakers had to do much with the documentary, seeing as Cunningham is such an interesting individual, all they needed to do was tell it like it is, Cunningham-style. And guess what? Mission accomplished.
All-in-all rating: 4.8 stars
For anyone who loves fashion, photography, and always respect a good personality: go on Netflix and stream away!
Image courtesy of meetsobsession.com
xx
-i